2021 had started with a huge question mark. Whether Covid danger would subside. Thanks to some miraculous vaccines made available in record time, and a rapid deployment at booths across areas, the situation improved greatly. We owe much thanks to this, and any progress made possible in industry and commerce is entirely due to the efforts of our civic agencies and healthcare personnel.
As confidence was getting regained, we were able to plan and carry out our important initiatives such as our regular Engineer/Architect Meet and our Mason training sessions. Both are site-oriented activities and these are the specialist groups who manage the Steel use, and interaction with them is important to us. We were thrilled to see participants come forward as we could conduct the meets with proper Covid protocol to ensure safety.
Trade exhibitions also were resumed after over a year's gap and people in the industry were thrilled to see and greet each other in person, with much relief that they were safe and sound. Bonds were renewed and deepened as we met after a long episode of challenging conditions. Our associates were particularly enthused with our new product launch.
WELCOME TO DS SURAKSHA 500 TMT
Our new product represents a leap in many ways – it is a breakthrough product in terms of manufacturing and performance. It was launched in an unusual year. It elevates the Icon brand, and for the first time, we have a major celebrity endorsement. Thus, it became a lively, action-packed year for us!!
DS Suraksha 500 TMT has been welcomed by dealers and customers for its unique offering. When it comes to enhanced safety, it is known that along with higher ductility the tensile strength also should be raised. Icon Steel formulated a process to achieve this to bring a safer, more versatile construction steel into the market. Along with blazing this new trail, we signed up with none other than Amitabh Bachhan, idol of the big and small screens, as a way to obtain faster recognition in new markets. A privilege to have an inter-generational Icon as our brand ambassador.

ATTRACTING FOLLOWERS THE ICON WAY
Thus, the year has turned out to be a landmark year for Icon Steel, and our network is pleased with the strides we have made despite the hurdles and restrictions. Not only did we maintain visibility through Marathon and similar sponsorship events, we launched a web video "Soch Ki Neev" on 26th January and this concept proved to be very popular and catchy. It secured over a million viewers and was enthusiastically shared among friends.
Our consistent social media activity has been getting noticed, and steadily we crossed the 2 million hits mark on YouTube in our brand channel. So it has been expansion on the ground in terms of sales network, and also a wider outreach online for the Icon brand.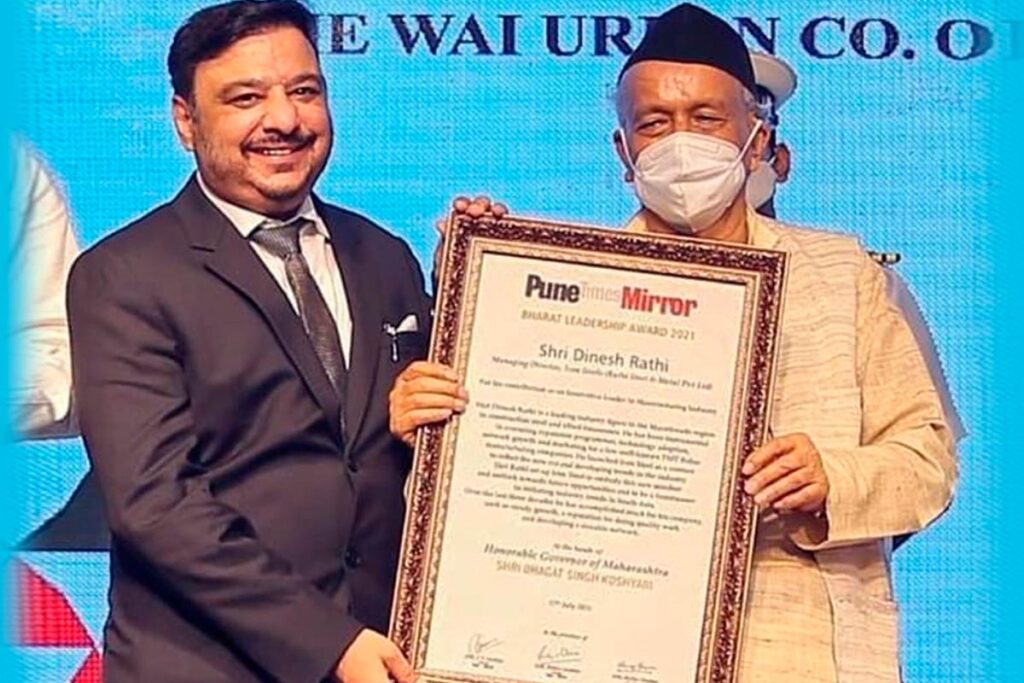 LET THE NEW YEAR BRING WIND TO YOUR WINGS
To cap all this, our MD received a prestigious award in Pune from the Governor of Maharashtra – the Bharat Leadership Award 2021, in acknowledgement for his services to the manufacturing sector and for promoting innovation in the construction industry.
So in all, 2021 was Senti 21 for us as a challenging time was converted into opportunity, initiative, and expansion – and we can look back fondly in farewell as we look ahead to scripting a fresh chapter of success in 2022. Best wishes from all of us in Team ICON as we look forward to collaborating with you in your projects and plans!