Every TMT bar has some technical specifications. It has a thickness, an outer rim, and an alloy composition etc. When we speak of innovation in TMT bar, and about a unique combo of elongation and strength in DS 500 Suraksha – what does it really do for a construction project?
Let's consider various aspects one by one. There are several immediate advantages that will strike you about the DS 500 Suraksha TMT bar – it has a bendability that is easier to work with.
This apparently simple aspect has a lot behind it. It is directly related to ductility. And in turn, ductility also has to with the property of elongation. It expresses the relationship between yield stress and ultimate tensile stress – that is to say, it is the shock-absorbing ability without breaking which is so useful as a protection against seismic/quake tremors.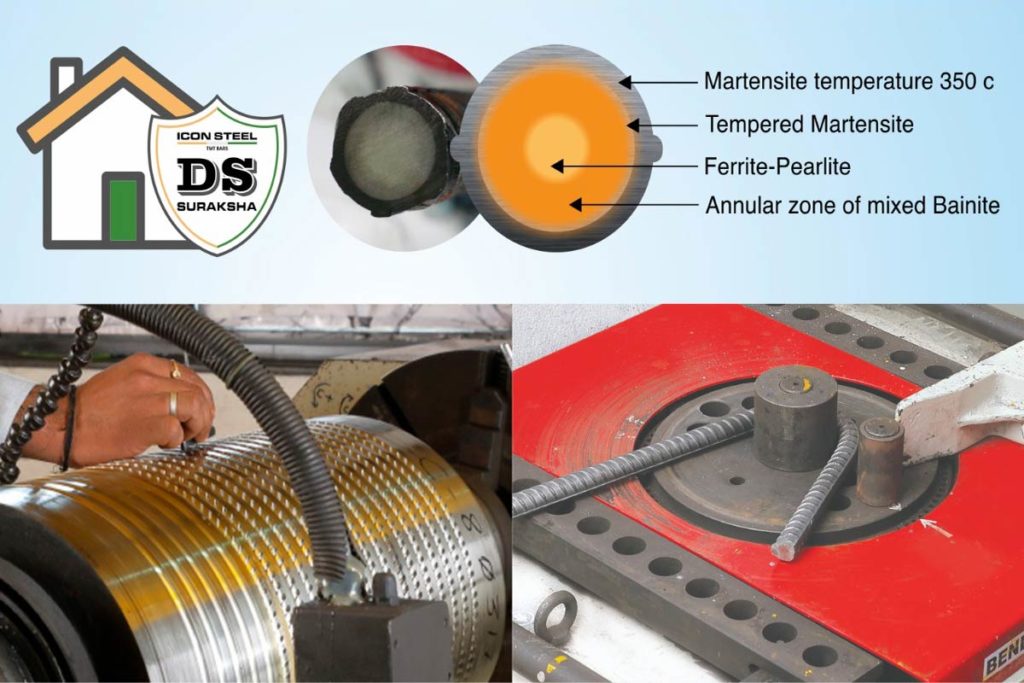 STRETCH AND RECOVER LIKE MUSCLE
In terms of the metallurgy, the ductile property of the ferrite-pearlite core provides the bar with the flexibility to stretch and recover its original dimension without damage. This makes it quake-resistant, and adds to the safety of the structure.
With the manufacturing expertise of decades at Icon Steels, we avoid the over-quenching that leads to excess in martensite layer which affects the elongation of the bar. This control over the microstructure composition enables the DS 500 Suraksha TMT bar to retain a high ductility without compromising on the ultimate tensile strength (UTS).